This page aims at providing medical professionals and trainers with simulation resources to provide their staff with high quality training and educational resources for dealing with COVID-19 cases. The 3B Scientific Group, including iSimulate and Cardionics is continuously working on updating the content and adding new resources as they become available.
Free Resources for Remote Auscultation Training by Cardionics: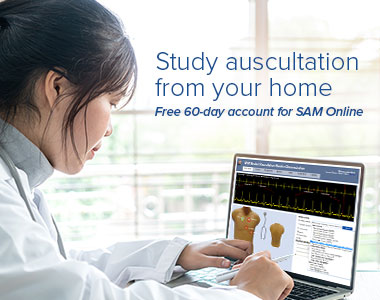 We are here to support students with tools to continue their education and study from home. Throughout the next weeks, many of us face challenges related to the COVID-19 spread and the measures taken to keep us safe. To support the education community, 3B Scientific and Cardionics have released free access to the online auscultation learning platform "SAM Online".
Medical students can use the platform to study remotely and teachers and instructors can use it to ask students to train specific skills in auscultation. The sound library includes more than 80 unique sounds (heart, lung, bowel, and bruit) and lesson guides for more than 60 conditions. SAM Online includes an additional program for learning arrhythmias with about 30 of the most common arrhythmias. Additionally, the ECG waveforms and descriptions of each condition are explained in depth.
Simply sign up below to get your access code. If there is anything else we can support you with, let us know. Stay healthy!
Click to request free account.
Related products for medical training to prepare for COVID-19:
REALITi360 Patient Monitor Simulator App

The patient monitor simulation app REALIT360 by iSimulate mimics branded patient monitors and vital sign monitors to provide a learning tool as close to the reality as possible. The app is free to download in the app store and requires a license to unlock its full potential. Click here to see the configuration details to create your patient monitor simulation system starter set (REALITi Plus Patient Monitor Simulator) or with the advanced version including video debriefing and CPR (REALITi Pro Patient Monitor Simulator). Both systems are an ideal tool to support distance based learning.
Patient Care Training Manikin PRO
With the 3B Scientific® Patient Care Training Manikin PRO, a number of medical skills can be trained, such as:
Inhalation therapy
Oxygen inhalation
Use of ventilation bag (mouth to mouth and mouth to nose)
Artificial respiration, oxygen treatment
Click for more details
BasicBilly+ CPR Training Manikin
The newest update to the best selling BLS training manikin includes a student and instructor app for direct feedback and analysis of the CPR performance for up to 6 manikins at a time.
Click for more details
CPRLilly PRO+ Advanced CPR Training Manikin
CPR Training with direct feedback is easy with this advanced CPR Training Manikin. It allows instructors to comfortably monitor the CPR performance of up to ten (10) trainees at a time.
Click for more details
Airway Management Trainer
This Airway Management Trainer is ideal for advanced training in:
Effective bag mask ventilation
Use of full range of superglottic devices
Video and standard laryngoscopy
Trachael and naso-trachael intubation
Awake fibreoptic examination
Click for more details
SAM Basic Auscultation Trainer
This Auscultation Trainer is delivered with the versatile SimScope® Auscultation Training Stethoscope. All heart, lung and bowel and bruit sounds as well as videos are recorded from adult live patients for students to experience a life-like simulation.
Click for more details
I.V. Injection Arm Trainer P50/1
This I.V. Injection Trainer is the ideal simulator for practicing the following medical skills:
Correct puncture of peripheral veins for blood sampling. The following veins can be punctured: basilica vein, cephalic vein, median cubital vein, dorsal venous rete of hand
Intravenous injections
Positioning of a butterfly catheter
Click for more details
Related Consumables for Improved Hygiene for Medical Simulations:
You have access to a wide range of consumables to meet hygienic requirements with 3B Scientific medical simulators and task trainers. We have linked the currently most sought after products here below: